Dennis Rodman's recent trip to North Korea might have been just a random blip across media radar were it not for the gifts – or least one of the gifts – that he brought for Kim Jong-Un. During a short press event in Pyongyang, Rodman displayed the presents he brought for his host: jerseys autographed for the cameras, small gift bags of bath products, a Where's Waldo book, a mermaid puzzle and, to the bewilderment and speculation of every news outlet from The Washington Post to Vanity Fair, a copy of Donald Trump's The Art of the Deal.
Whatever Rodman's motivation for choosing that particular book during a time of particularly tense relations between the United States and North Korea, his visit highlights the importance of culturally sensitive gift-giving when dealing with international clients. We will explore some of those issues of etiquette when it comes to gift-giving in Korean culture.
Rodman's gifts were actually exceptionally well-chosen, indicating both cultural sensitivity and an intimacy with Kim (The Washington Post speculated that the Trump book might have been a "cheeky gesture" and Time recalls that Rodman has referred to Kim as his "best friend" in the past) that is more personal than political. In The Koreas, Mary E. Connor writes that gift-giving is an important dimension of Korean business culture. "It is impolite for a visitor not to bring a gift," she writes, adding that, "It should be simple and personal. If it is extravagant, it will create a sense of obligation. The best gifts are ones that leave the recipient in good spirits and wanting to voluntarily reciprocate."
Rodman's gifts stand in stark, tasteful, and humble contrast to those currently housed in North Korea's International Friendship Exhibition Hall which were given to Kim and his predecessors by various heads of state. According to Atlas Obscura, these include a crocodile skin briefcase from Fidel Castro, a taxidermied bear head mounted on a red satin pillow from Romania's ill-fated Nicolae Ceausescu, and a stuffed alligator standing upright and holding a tray of drinking glasses from Nicaragua's Sandinistas.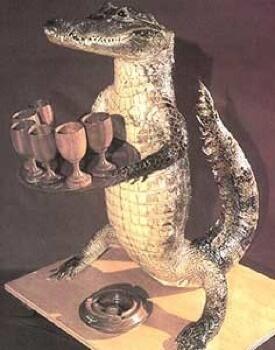 Taxidermy aside, there are some items that should be avoided altogether when doing business in Korea. Kalbi, who authors the Korean Culture Blog, notes that shoes and handkerchiefs are best avoided as they respectively denote "running away" from the relationship and the imposition of grief by the giver. Ediplomat says that red ink should be avoided at all costs (the names of the dead are written in red ink) as should scissors and knives (they represent a cutting away of the relationship) and anything to do with the number 4 (it sounds like the word for 'death' in Korean). They also note that gifts should be given and received with both hands.
Cinematographer Donovan Sell, who has worked extensively throughout South Korea, says that small gifts are best when paying a visit. "Bring some fruit or nuts," he advises, noting that age plays a factor when it comes to hospitality. "Older people always spoil younger people," he told GetGlobal. "My friends there are all older and they never let me pay for drinks."
The puzzle and Where's Waldo book were, as The Washington Post pointed out, most likely for Kim's young daughter.
A word of warning to visitors, however. It is customary to repeatedly refuse gifts. The Korea Times reports that someone offered a gift is "under the obligation of Korean custom (to) decline the offer at least four times. The person who offers is also under the obligation to offer it at least four times." In addition to this, The Times writes that even gift-giving in the form of picking up the tab at a meal is fraught with potential social peril. "Most Koreans, being so infinitely conscious of their duty to others, practically fight for the honor of paying the whole bill for everybody. Sometimes, foreigners are astounded to witness a physical shoving match, as members push one another aside to rush to the counter to pay the bill. We actually witnessed a person being knocked down on the floor so that the other person could rush to the counter to pay the lunch bill."
(Cover photo adapted from YouTube screenshot/Amazon.com)